We export Skyline GTR, Supra, MR2, Roadstar, AE86, RX-7,Pajero,Legnum wagon, Terrano, Lucida, Delica, Landcruiser, PulsarGTI-R, R33,to UK AU NZ customers directory from Japan in high quality and Cheaper price ever than usual ! We are very good at Used Japanese All High Performance Cars .Please feel free to contact with us as soon as possible.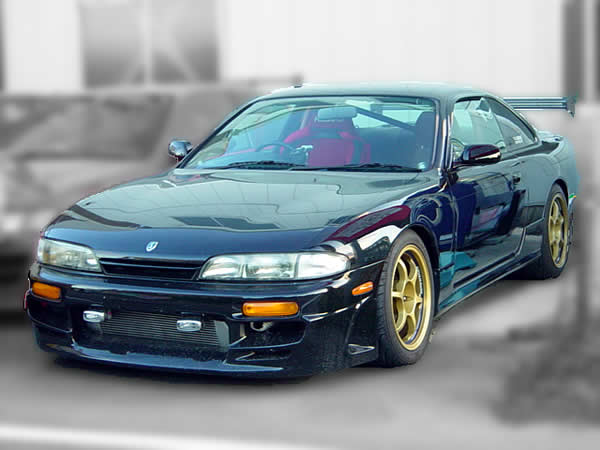 1993 S14 Silvia K's 320PS DRIFT modified for sale
Stay your mouth pointer on each thumbnail to switching the image files.
Mileage ; Mileage 110,000km, around 68,750mile, Color; Black.
The engine is Tuned up at famous tuning factory completely, and the 2nd engine,
mile around 50,000km. Fully over-hauled and mounted just this month.
P/S, P/W, E/M, A/C, 5spd trans, Factory installed audio installed.
Fully loaded,

A lot of Modifications, Apexi Camshaft, HKS GT-Turbo units, TRUST Greddy F/M Intercooler, Oil-cooler, Engine management system is "Apexi Power FC with FC hand controller".
NISMO 550cc fuel injector, Strut Brace bar, 4poits roll cage, JIC Height&Camber adjustabel coil over kits, ADVAN 17' inch rims, After market Full aero body parts, GT-Wing, etc, etc.................!

The engine horse power is 320 to 330PS around Boost 1,0 to 1,2kg/mm.
This is Modified DRIFT RACING vehicle.
The modification total cost is around 1.5milion JPY.


SALES PRICE FOB 910,000JPY
FOR MORE INFO ;
Please contact us by;
E-mail:office@monkys.jp
TEL/FAX:+81-72-624-6153
BACK TO Used Japanese Car page