We export R33 Skyline GTS-T Type M, GTR, Supra, MR2, Roadstar, AE86, RX-7,Pajero,Legnum wagon, Terrano, Lucida, Delica, Landcruiser, PulsarGTI-R, R33,to UK AU NZ customers directory from Japan in high quality and Cheaper price ever than usual ! We are very good at Used Japanese All High Performance Cars .Please feel free to contact with us as soon as possible.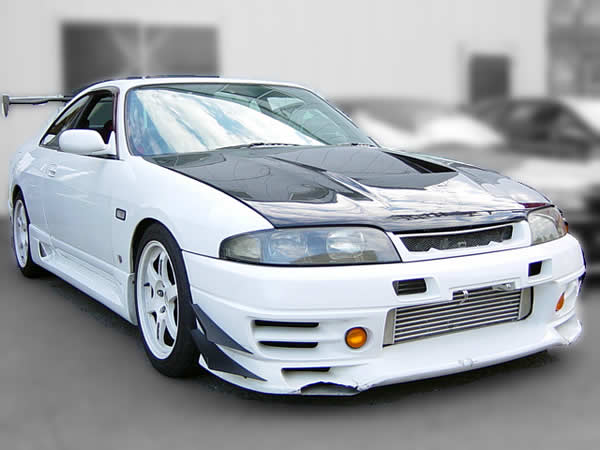 FOR SALE 1996 R33 Skyline GTS-T TypeM Drift modified
Stay your mouth pointer on each thumbnail to switching the image files.
Mileage ; Low Mileage 72,000KM around 45,000Mile Color; White
P/S, E/W, E/M, AAC, 5spd Transmission.
Fully loaded.

This is "DRIFT racing modified "R33 Skyinet GTS-T TypeM 1996 year model.
The engine is modified by famous japanese tune-up factory "AKBAL",
Engine power is around 290ps to 300ps at 1.0kg boost level.
Main modification is "Boost up" and "Reprogramed ECU & Fuel management"
This is not "Privately modified" vehicle, so extremely good condition.

GT-Wing, Recaro driving seats, Apexi Oil & Water gauges, Blitz SBC2 Boost controler, Apexi Electric fuel controller, Apexi air-intake, TRUST Greddy Oil cooler, Front mounted Inter-cooler, Alluminum made triple-cores radiator, NISMO L.S.D, Carbon-fiber made front food, TEIN height adjustable with Electric damper controller coil over installed, VOLK etc.
A lot of modification has been done by the factory.

This vehicle will be put 6points Roll Cage and re-modified in the interior by MONKY'S INC before the shipment as custmer's requests.

If you would like to import "Your own special , modified Vehicle" , Let me have your serious enquiry at us anytime you want, I will help your dream make it true!



SOLD OUT
FOR MORE INFO ;
Please contact us by;
E-mail:office@monkys.jp
TEL/FAX:+81-72-624-6153
BACK TO Used Japanese Car page