We are Japanese Used Car Exporter/Used Japanese Auction Car Supplier in Japan
We are very good at Supplying "Japanese Performance used cars" all over the world
Nissan Skyline GT-R, 180SX, Silvia,Toyota Supra,MR-2,Land cruisers,
Mazda MX-5,RX-7, Mitsu EVO, Subaru Imprezza, Performance,Modified Cars!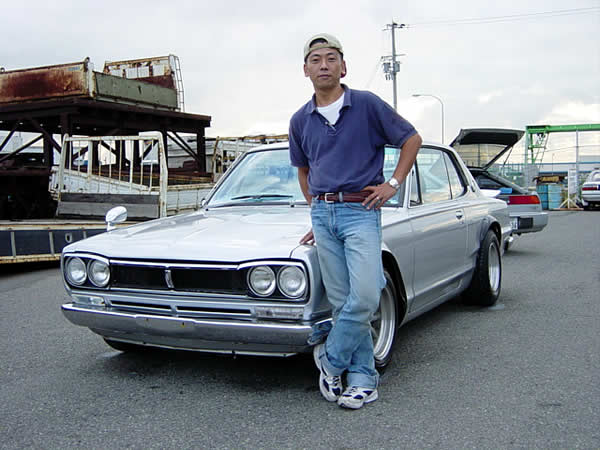 The Managing Director and President of MONKY'S INC
Mr.Yasuhiro Totoki, 36yrsold
I used to living my age 20 to 22 years old in the western part of the United States, and was engaged in automobile repair business for seven years. Five years were passed as an automobile salesman after that. The present automobile export trade is performed taking advantage of old career.
When you have questions, Please feel free to contact to me! Thanks!
My personal messages to our custmers in the world
Dear Custmers,

Thank you for your visiting our website.
My name is "Yasuhiro Totoki", a magaging director of MONKY'S INC.
We are one of reliable and experienced car export company.

These days, I know there are a lot of demands from world wide buyers, and private custmers for Japanese performance vehicles, and As you knows now the internet is one of the most easiest, and reliable tool for serching your vehicles at your home without going abroad and buying the vehicels.

The world has been changing every day, and the ways of buying vehicles are also changing....

There are a lot of "Amazing high performance, but affordable vehicles" in japan, and easy to buy in auto auction houses, dealer stock, moreover private buying.

Of course, We will supply any kinds of vehicles as the custmers request, but If you are inerested in japanese highe performance vehicles, Let me have your enquiry at first at us.

Definitely, We can give you best service in the world, and We have a great confident to offer attractive and owesome vehicles to you at a reasonable price level.

I hope You will be satisfied with our custmer service, and our supplying vehicles.

I am looking foward to hearing from you in soon,

Sincerely,Yours,
Yasuhiro Totoki,
MONKY'S INC

Our facilities and business background
Our 1st Yard located on the back of our office building.
We always take a final inspect ions at this factory spaces.
Our 2nd yard located near our office.
This huge yard is one of our co-operated dealers car stock yard.
We rent 20 vehicle spaces for our company.
---
MONKY'S Inc
2-17-19,Mishimaoka,Ibaraki-city,OSAKA5670021,JAPAN.
TEL/FAX:+81-72-624-6153 HOT LINE:+81-90-2062-2270
E-mail:office@monkys.jp
MONKY'S INC another division URL :
http://www.monkys.jp/e/
http://uk.geocities.com/japusedcarsale/
http://www.japaneseusedcar.ca/
2003 MONKY'S INC All rights reserved.