--Past Selling car pictuer gallerly--

As We mentioned in "How To Buy 1 2 3" page, The custmer vehicle is always cleaned up completely before the shipment except some cases(sold as is base, or other sales conditions).

All The custmer purchased Car is handed over to the reliable Local Transport company, ZERO transport company in front of our stock yard, then transport to the departure port in good manner.
We always use "Transport Car" in japan except Test driving, so Custmer doesn't need to worry aabout the accidents in Japan wharf, customs area.
There are some sample vehicles, which were sold to our custmer in past.

After purchasing our stock vehicles, or the auction buying vehicle at us, We can provide special service to the custmer.
As you can understand, We can supply it "As is", and modified the vehicle following to custmer's requests.

Changes rims, fits aero parts, body panels, Convert trany Automatic to manual stick shift at our service factory.

We believe You can trust our quality service, and How do we manage your vehicle when You purchase our stock vehicles at us. Please refer to these sample pictuers for the evidence of our best quality services.

Most of Car exporters in japan usually doesn't give our similar, additional custmer service, So If you want to get your dream, and modified vehicle from japan, Let me have your enquiry at us anytime you want!



Sincerely,Yours,
Mr.Yasuhiro Totoki


--1992 BNR32 Nissan Skyline GT-R Modified, To Custmer in Hollands on 2008.--
Hi Yas
I want to thank you for the car.. It is everything you discribed and it looks just like in the pictures that you have sent me.
I drove it home yesterday... it is very fast...more then I had exspectate ..beuatifull......and the engine sounds great.
Here is a link when I drove the car home
http://www.123video.nl/playvideos.asp?MovieID=375180&
Very good car.. Thanks marcel howell
1992 Nissan Skyilne GT-R Modified.
N1 turbocharger, Coil over, etc...


--1973 TE27 Toyota Corolla Levin Modified, To Custmer in Fremantle Australia on 2008.--

Hello Mr Yas,The car arrived has arrived and I drove it home from the warf on Tuesday. Custom clearance with no problems, very clean. I have made one attempt to licence for road use on Thursday, however there are some more regulations that I have to meet in order to pass registration, which will take some time. I have spent some days already working on the car and making repairs. As you say it is in need of some work for the body as I expected for a car of 35 Years old. I am very happy with the engine and driving performance as you say it is very good experience to drive. I am am continuing to work toward registration and improvement of the overall condition of the TE27.Thank you for all that you have done to send this car to me. My work to restore the car to best condition has already begun.
The attached picture shws me with the TE27 at my home workshop. Thank You once again. Best Regards Mike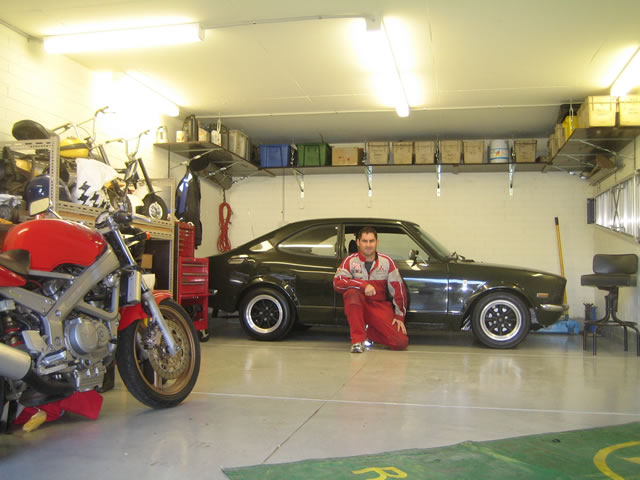 --1989 BNR32 Nissan Skyline GT-R TD-06G Twinturbo modified, To Custmer in Dublin Ireland on 2008.--
hi YAS,sorry i ment to send you an email sooner.
I am very happy with the GT-R !!!!!! thank you it is just how iwanted....and i love to drive it !!! i was even over at silverstone in the U.K last weekend. And drag racing in Santa Pod i drove 1,200 km in 3 days and car was perfect. beautiful to drive...... (and lets just say i was not obeying the speed limits ;)
i had a dyno check here a few weeks ago just to check fuel and timing was ok..... the GT-R was 440 ps @ 1.1bar (16 psi ) so i was happy with that to !!! i have many many pics of the car here in Ireland and some in the U.K to........
1989 Nissan Skyline GT-R
TD-06G D-jetro twinturbo, Coil over, BBS LM rims, Carbon rip spoiler, famous Japan tunner "Tuned" unit.


--1999 BNR34 Nissan Skyline GT-R Vspec NISMO factory modified, Only nismo parts modified car, u.k.--
1999 Nissan skyline GT-R Vspec NISMO factory Modified Car,
Nismo stage 1 tuned,
Taylor Made "ROBSON" Buffalo red stitch full leather seats, door trims,
NISMO rims, exhaust, bars, coil overs, ECU, pipings, radiators, etc, etc,
--1971 KGC10 Nissan Skyline GT-X modified "GT-R" style car, famous "HAKOSUKA", to U.S.A.--
1971 Nissan KGC10 Skyline "HAKOSUKA" GT-R style car,
L28 6cyl with SOLEX race carbulator, exhaust headers, and Dual exhaust pipes,
Original WATANABE 8spoke alloy rims, Original Interior, Original GT-R flare fender
*This unit is totally legal in the u.s.a. , already 25years old, No EPA, DOT, U.S.Customs importation requirement application.
You can register this unit freely any states in the u.s.a, without any "certificate document" meet U.S. Safety standards against DOT, Emission standards against EPA, and Import declarations against U.S.Customs.
--1991 BNR32 Nissan Skyline GT-R "Bee-Racing" Bee 324R Complete modified --
1991 Nissan Skyline BNR32 GT-R Modified Car, "Bee324R",
Complete Bee324R body kits installed,
Recondition Engine, suspension.
Very impressive, rare kinds of used cars,.
--1991 BNR32 Nissan Skyline GT-R heavy Modified , modified by Top secret , Reconditioned by AKBAL racing--
1991 Modified BNR32 Nissan Skyline GT-R,
This unit was originally modified by "Top Secret" Tokyo, japan, then We recondition in our co-oparate tunning factory,
"AKBAL RACING" Osaka, Japan.
We set this BNR32 GT-R up again, installed New Blitz EVC, actual driving , setting.
Engine setting is best condition for the gasoline octane rate in our custmer regions.
MONKY'S Inc
2-17-19,Mishimaoka,Ibaraki-city,OSAKA5670021,JAPAN.
TEL/FAX:+81-72-624-6153 HOT LINE:+81-90-2062-2270
E-mail:office@monkys.jp
MONKY'S INC another division URL :
http://www.monkys.jp/e/
http://uk.geocities.com/japusedcarsale/
http://www.japaneseusedcar.ca/
2003 MONKY'S INC All rights reserved.